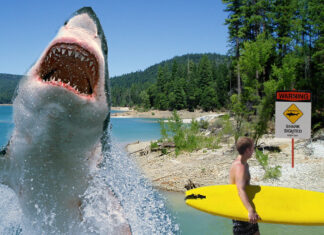 An area boy is lucky to be alive after a freak shark attack on an area lake.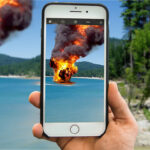 A local Norwegian family from the Cascade Shores housing development is in hot water for attempting to cremate a deceased relative on Scotts Flat Lake earlier today. The Barstad family recently suffer the loss of the family's patriarch, Norman Barstad, who had lived with the family at their Spanish Lane home.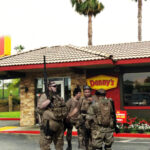 A Placer County self-proclaimed 'patriot militia' attempted to re-open a Newcastle Denny's restaurant.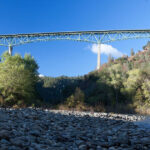 A Mokelumne Hill man is lucky to be alive after falling 730 feet in a failed suicide attempt.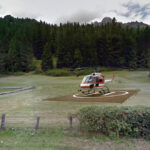 The annual private meeting of North American and European elites known as the Bilderberg Group announced this week that they will be holding their annual conference at Herrington's Sierra Pines Resort in June of 2021.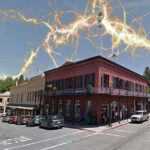 Nevada City, California will be the nation's first town to ban all 5G-related technologies.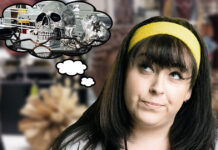 Cedar Ridge power shopper Janet Williams has regrets about her recent trip to the Auburn, CA Ross Dress for Less store over the weekend. What started out as a whimsical "let's just see what they have in stock today" trip to the popular discount clothes and home furnishing store turned into a shopping odyssey as Ms. Williams filled up her Toyota Camry with over $250.00 of crap.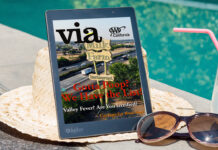 Dixon has always been a traveler's favorite place to relieve themselves.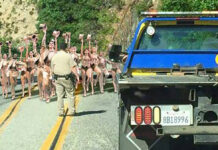 Officer Justin Olberham of the CHP trying to figure out how to stop the cast.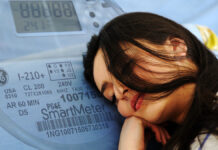 Although many people complain about the effects of electromagnetic radiation, one area woman says they're helping her get a good night's sleep.