Rocklin, CA — Last week, the Rocklin city council approved the now-infamous Initiative 42, affectionately known as the "Not Here, There!" act by local politicians. It allowed nearby Citrus Heights to rezone large residential lots for low-income housing, putting Rocklin at the forefront of not actually solving the poor and homeless crisis but simply moving it elsewhere.
Fred Dicks, a Rocklin father of two and foot-obsessed podiatrist, applauded the decision, saying, "It's like treating a bunion; you don't want to see it, so you just shove it in a shoe. The poor get a place to live, and I don't have to look at them. It's win-win, toe-tally awesome!"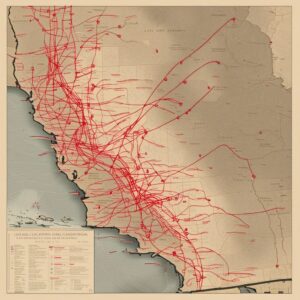 Not to be outdone, Citrus Heights responded with a low-income "relocation" initiative to Marysville, CA, in Yuba County.
Imma Kusher, Marysville's city councilwoman and avid collector of relocation initiatives from neighboring cities, warmly embraced the low-income and homeless, stating, "They'd blend right in down by the [Yuba] river. But just in case, we have plans for a follow-up initiative to Linda, called 'Just Passing Through!'"
Representatives from Linda could not be reached for comment. They're still waiting on the telephone service promised in 1938 and, according to some sources, are still digging out from several floods in the 1990s. A hand-written note, delivered by pigeon, read, "Please hold."
Environmental Concerns
Meanwhile, the Yuba River activist group, the South Yuba River Citizens League or SYRCL (pronounced 'circle' but without taking care of anyone in it), expressed concerns about how low-income and homeless might "treat" the river.
"We understand the housing crisis, but housing thousands down by the Yuba River's edge could lead to a wave of problems," said a SYRCL spokesperson while kayaking. "We recommend moving these populations to Sierra City, CA, as soon as the water's clear."
Several Sierra City residents, who agreed to speak while reloading their firearms, mentioned that they would "shoot anyone on site who was trafficked by 'the big city elites.'"
State Officials Add Their Two Cents
A prominent state official dedicated to the fine art of doing nothing said, "We won't rest until we've done everything in our power to ensure that nothing continues to be done." This echoed the sentiment of many Californians who like to complain about problems but don't want to pay for the solutions.
Most state residents can now rest assured that no low-income housing is coming to their neighborhoods anytime soon, thanks to the swift, relentless passing of responsibility, illustrated in a complex flowchart that resembles the tangled headphones in your pocket. Meanwhile, several new relocation initiatives are rumored to be in the works, promising to push the problem just one town further down the road.
As for the genuine homeless crisis? That appears to be a problem for future generations of politicians to ponder, pass around, and ultimately pass on. After all, as one Sierra City resident succinctly said, "Why solve a problem when you can just shoot it?"
Note: This article is proudly sponsored by the "Committee of Committed Inaction" and endorsed by the "Society for Passing Problems to the Next Town Over."
About Post Author