Grass Valley, CA — The West Sacramento chapter of the Workers Action Network or SacWAN, a pro-labor and social rights group loosely associated with ANTIFA, announced its Facebook page that it plans on holding an Estate Sale in Nevada City, CA.
According to the Facebook post, the usually secretive Leftist group will be holding an estate sale in the affluent Cement Hill area of Nevada City. According to on SacWAN ANTIFA insider who goes by the name of 'CitrusHate,' the house members are at their summer home in Greece and won't be back until September.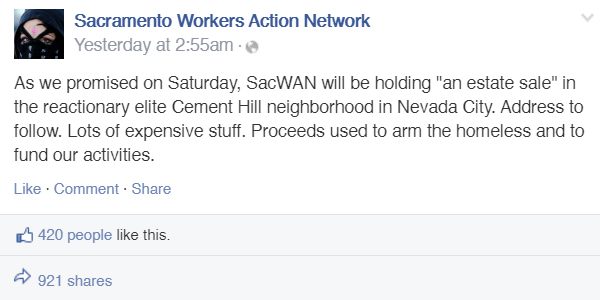 "The point of this event is to raise money to help the Nevada County homeless," said CitrusHate. "We plan on taking the money from the sale and buying weapons for the disenfranchised. There's been a lot of news recently about vigilante groups threatening the homeless populations. We want those right-wing monsters to know that their victims will be heavily armed. And we hear Nevada County has an unusual amount of Ranch Dressing. That will sell like hotcakes."
Proceeds of the sale will help fund "resistance operations" around the country. When asked how SacWAN came to be associated with ANTIFA, CitrusHate paused and grew serious.
"Look, there is no ANTIFA. At least like how it's portrayed in the media. We're loosely associated with other people, largely through secured communications channels. Although I have to admit it's great entertainment watching reactionary dirtbags like Trump supporters lose their shit every time some media goon says the word ANTIFA. It's free rent in their heads. And a great recruiting for outfits like SacWan."
Mr. CitrusHate said that there would be a variety of "bourgeoisie" items to choose from, including ski gear, knock-off jewelry, several guinea pigs, and of course, cases of Ranch Dressing.
"There will be something for everyone, even our worker brothers. And it's for a good cause. We will be posting the address is in a couple of days. There are many to choose from up there."
About Post Author