Nevada City, CA — According to the July issue of Mortuary Today magazine, Nevada City tops the list of the "up and coming most profitable towns" for the mortuary business. The publication, which describes itself as the "leading magazine for all things death," says that the charming former Gold Rush town has "great profit potential."
This is the 8th annual "Good for Business" issue, and the first time a town of under 10,000 residents has scored the top spot.
"This is our big issue every year," said Mortuary Today publisher Bethany Millbright via a Zoom meeting. "It has our largest distribution, and you'll find us in hospitals, mortuaries, and of course, any remaining KMarts. It's a guidebook for those in the industry, and certainly, those who are interested in it."
According to Ms. Millbright, Nevada City wasn't anywhere on the radar until Nevada City's mayor Reneitte Senum made a series of bizarre and dangerous public comments.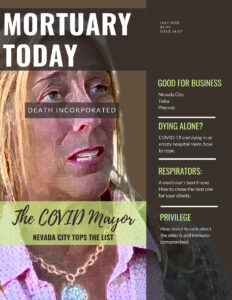 "We normally focus on large metropolitan areas," continued Ms. Millbright, "however after the mayor has called for people to challenge Governor Newson's executive order to wear masks, and more recently on a radio interview, encouraging young people to get the COVID-19 virus, Nevada City shot to the top of the list. Her dim-witted abandon for legitimate science and data is going to get many vulnerable people sick. That's just good business for us."
One of the casualties of Ms. Senum's abandonment of reality will be yet another scare for the tourism industry in the Sierra foothill town. The California Tourism board predicts that such reckless comments could depress the local economy as much as 42%.

However, it's not doom and gloom for the town. Former Nevada City resident Dr. Cadence Davies of UCSF Medical Center has named a COVID-19 respiratory condition after the mayor, also referring to her as the "COVID Mayor."
"Reinette's Syndrome is a rare condition that only seems to afflict some," said Dr. Davies speaking after her rounds in the ER. "It causes them to speak eloquently on their areas of expertise and then inexplicably tell the people things like, 'masks cause 5G!' Then they drown in their own mucous."
The July issue of Mortuary Today will be available starting later this week.
About Post Author