Sierra City, CA — You're not apt to find controversy in the usually quiet mountain hamlet of Sierra City. Nor are you likely to find much noise at 4,000 feet as the north fork of the Yuba River winds its way through old mining claims. But that all changed last week when the social media account the Libs of TikTok identified Basset Station School's faculty as "grooming children for a deviant gay and communist lifestyle."
The 242, K-8 student Bassett Station Community School serves all parts of rural Sierra County and is located 2 miles outside Sierra City. And starting last week, the school received phone calls from Fox News producers after the Libs of TikTok posted a secretly filmed video of a young child talking about how they learned all about porn.
Several teachers and administrators reported threatening phone calls and emails following the post.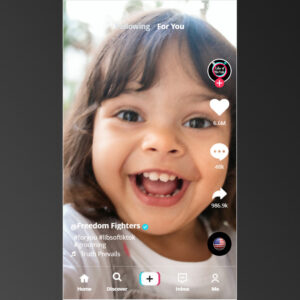 Conservative Outrage Spreads
Outrage among conservatives spread quickly as the unsourced video spread across multiple social media platforms. Both Facebook and Twitter immediately removed the video, citing violations of their community standards, and FactCheck.org issued an immediate statement claiming the debunking service could not verify the video.
Right-wing figures like Rep. Marjorie Taylor Greene and Fox News hosts Tucker Carlson and Laura Ingraham have spent the last month boosting a conspiracy theory that anyone opposed to anti-LGBTQ legislation is a "groomer" or a "pedophile." And these same news entertainers have looked to social media as a news wire to help them curate and market-test outrageous stories.
This has already led to real-life protests, but on far-right forums like Patriots.win and Gab, there's been a significant spike in ultra-violent rhetoric, with users posting threats against specific teachers, Disney employees, and lawmakers.
Fox News Jumps In
Despite this lack of sourcing, several conservative media outlets ran the story as accurate. For example, Fox New's Tucker Carlson claimed it must be true because Bassett Station Community School failed to issue a statement.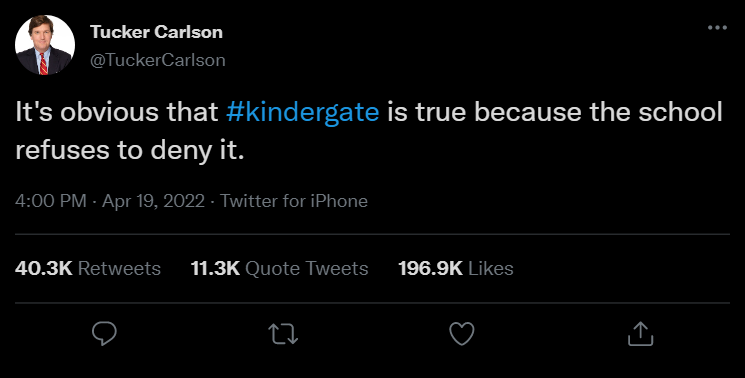 However, according to at least one parent who wished to remain anonymous for fears of retaliation, the children in kindergarten class watched a video about endangered African mountain gorillas in Rwanda. And one youngster was named porn inkende, which in the native Kinyarwanda means "silly money."
"Samantha came home that evening, and all she wanted to talk about was the silly monkey," said her mother. "How dumb and funny they are. And how people are trying to kill them. She grabbed my phone and made a TikTok video when I wasn't looking. When I woke the next morning, it had over a million views, and I had a lot of threatening comments."
Samantha's mother has since deleted all of her social media accounts.
For their part, the school says it doesn't comment on "social media" issues. But that hasn't stopped unhinged activists from flooding the small Sierra town to voice their anger.
"This is where it starts, and it stops," said anti-CRT and anti-grooming activist Carol Henchman, who drove 20 hours from Oklahoma City to protest at the school. "This kind of pedo stuff should never be allowed near our children because it grooms them into being gay and non-binary. I wouldn't be surprised if they taught all this CRT crap here."
Bassett Station Community School remains closed with the children currently home-schooled.
About Post Author