Grass Valley, CA — After repeated attempts to send her daughter and granddaughter a 'selfie,' Mythel Adams of Grass Valley finally managed to send a somewhat coherent message using her new iPhone X that her daughter recently purchased for her.
"Holy cow," exclaimed Ms. Adams in a Gish Gallop land-line telephone interview, "when I was learning the computer I just played solitaire for a few weeks until I got used to it. But with this thing, there's no mouse or typewriter. So when my granddaughter asked me to send her a 'selfie,' it took me almost 2 days to figure that out."
According to her daughter Dorothy, her mother sent her a steady stream of gibberish and odd, blurry photos for the first few days she used the new phone.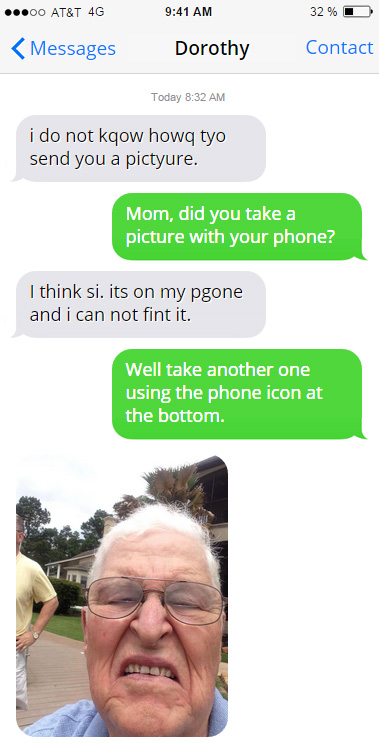 "Frankly I was impressed she could even send me anything," commented daughter Dorothy in a follow-up interview. "She's a real trooper."
With phrases such as "jr;p me. U didnot lknow qwhht to do" and "hw di i hti send" and "yuor father is drnk agian", Ms. Adams sent over 42 nonsensical text messages to her daughter.  After two days of constant trial and error, Ms. Adams managed to send a readable message with a self-portrait called a "selfie."
"I was so happy that I figured it out," concluded Ms. Adams. "The picture wasn't all that good, but I managed to do it!"
According to sources close to Ms. Adams, she has also struggled with her new Facebook account, entering 23 undecipherable status updates last week after she mistook the Update Status button for the Google search field.
About Post Author