Grass Valley, CA — The radical environmental and unnecessarily punctuated group Earth First! announced on social media today that they were the group responsible for the theft of several Christmas Trees from the Fowler Center parking lot.
According to the Grass Valley Police, at approximately 2 am Friday, several unmarked Econoline Vans pulled up to the Savemart lot, unlawfully entered the facility, and stole approximately 30 Christmas trees.
"We have a surveillance video showing as many 12 individuals in various stages of dress entering the tree lot and then proceeding to stuff as many Christmas trees into two Ford vans," noted the police report. "The Grass Valley Police department is asking the public for help in identifying the vehicles and the suspects. Both vans had large bumper stickers with various Earth First! Slogans such as 'We'll log other planets later' and 'Nature bats last.'"
One eyewitness claims she saw the vans hurrying out of the parking lot, with trees sticking out of the windows.
"I didn't think much about it when I saw the vans," said Hanna Cadence, who said she was driving home 'after a night of partying.' "To be honest, I was a bit buzzed, and it looked like an ordinary Nevada County night. But, I did think it must have been hard to drive with all those trees stuffed in there."
On Saturday, the Deep Green Resistance, a radical foothills group associated with Earth First, announced on social media that they were responsible for the heist and noted this was the first of many to come.
"Early this morning, the DGP liberated dozens of imprisoned trees held captive by capitalists," the group announced on Twitter. "They were taken to a location near Graniteville and given a proper burial. Let this be a warning to those who think they own nature."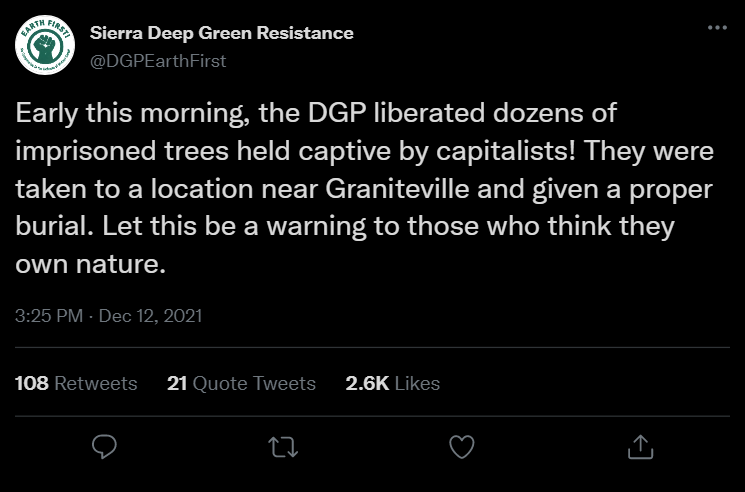 Police say they have a few leads on the criminals, noting the vacuum cleaners on South Auburn Street's Gold Rush Car Wash were clogged with pine needles, which according to the owner is a recent issue.
About Post Author